A review of literature on open innovation in small and medium-sized enterprises
Journal of Global Entrepreneurship Research
2015
5:6
Received: 12 November 2014
Accepted: 3 April 2015
Published: 9 May 2015
Abstract
Studies on open innovation in small and medium-sized enterprises (SMEs) have experienced a rapid growth over the last several years. Yet, there is no comprehensive review on this field of research. The objective of this study is to examine current research on open innovation in SMEs to integrate empirical findings and to point out future research agenda. Findings suggest that studies are mostly performed based on panel data and only several studies include sophisticated statistical analysis. Studies are mostly conducted in the European context along with some studies in China and Korea while studies in the context of North America are scant. Open innovation improves the overall innovation performance of SMEs. However, relevant theories and models for managers are not well-established in the literature.
Keywords
Open innovationSMEsNetworkStrategyLiterature review
Introduction
Studies on open innovation have surged significantly ever since the open innovation concept was introduced by Chesbrough (2003). He defines open innovation as "the use of purposive inflows and outflows of knowledge to accelerate internal innovation and to expand the markets for external use of innovation" (Chesbrough et al. 2006, p.1). Until recent time, studies on open innovation had mainly focused on large firms (van de Vrande et al. 2009; Bianchi et al. 2010). Many large firms such as IBM, Philips, and Procter & Gamble are successfully using open innovation in their strategies (Chesbrough 2003). Some studies on open innovation in the context of small and medium-sized enterprises (SMEs) are conducted in the early stage. However, these studies are mainly based on secondary data, conceptual, or managerial.
In general, SMEs lack both managerial and technical skills for their effectiveness (Rahman and Ramos 2010). They are less active than large firms in open innovation because of their particular characteristics such as organization, culture and strategy. A study by the OECD found that only 5-20% of SMEs are actively using open innovation approach. Studies on open innovation in SMEs are fragmented (Bianchi et al. 2010; Colombo et al. 2014). Some scholars argue that SMEs can achieve greater benefits from the open innovation than larger firms because of their less bureaucracy, increased willingness to take risks, and faster ability to react to changing environments (Parida et al. 2012). In addition, studies also show that open innovation is a promising means for SMEs to overcome their challenges and increase their profitability (Gassmann et al. 2010). Methods that can help SMEs to overcome barriers to the successful implementation of open innovation are necessary to explore. Consequently, integration of fragmented state of the literature is essential. The objective of this study is to examine current research on open innovation in SMEs to integrate empirical findings and to point out future research agenda.
Research methodology
The selected articles for this study are firstly collected from the ISI Web of Science database. This database includes quality articles. Recently, scholars have widely considered the ISI Web of Science as a rich source of significant research articles (Dahlander and Gann 2010). The data extraction took place at end of December 2014. Searching was limited within peer-review journal articles written in English for the period of 2003–2014 in the business discipline. From the ISI Web of Science database, the search results retrieved 37 articles using "open innovation" and "SMEs" as the keywords. However, the number of articles on open innovation in SMEs which are published in the journals listed in the ISI Web of Science is low. Hence, using the same searching criteria, to include more articles, a second attempt is made in the Scopus database. Altogether 56 articles were retrieved from the Scopus database.
Thereafter double entries of articles were removed. After careful reading abstracts and sometimes the main bodies of the articles, the irrelevant articles were left out from both the ISI and Scopus databases. Consequently, 68 articles were found relevant. A third attempt is made to find more articles and searching was performed in the Google Scholar and five more articles were found. Altogether 73 articles were found for this study purpose.
After carefully reading the main body of each article, 12 articles were excluded as these articles are beyond the scope of this study. The final dataset consists of 61 articles (see Figure
1
). NVivo program is used to compare abstract of each article with others to generate broad themes of the studies (Macpherson and Holt
2007
). Based on the thematic categories, necessary information from each article is tabulated in spreadsheet. Finally, thematic analysis is performed to identify empirical evidences from the studies.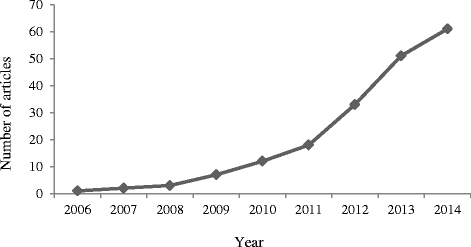 Conclusions
This review study has revealed several key issues regarding open innovation in SMEs. There is limited number of studies in the top-notch journals. Scholars from the European Union have played a major role in the literature. Some Asian countries such as China, South Korea, and Taiwan have been explored to a considerable extent. The articles on open innovation in SMEs have appeared in a wide range of journals. Simple statistical analyses are used in most of the studies. Hence, future studies should adopt highly sophisticated analysis techniques. Most of the impactful articles are based on panel data. Studies based on primary data would bring very intuitive results. Longitudinal studies may be useful to get insightful knowledge about the relevance of open innovation for SMEs.
For SMEs, open innovation is more useful for commercialization than early stage activities such as for R&D. Compared to large firms, SMEs need to be more careful in terms of their intellectual property (IP) as they protect very selective technologies. Careful balance between revealing and protecting of IP in collaboration is crucial. SMEs are less inclined to adopt searching strategies than large firms. For them, open innovation is more relevant for new product innovation than for incremental innovation.
New entrants are quicker than the incumbents in adopting open innovation. Open innovation brings some measurable effects along with some indirect benefits. Along with R&D activities, SMEs may consider R&D-related activities such as meeting customer demands and remaining competitive. Collaboration with external parties is costly and lengthy process. Hence, adopting new management paradigm is necessary for SMEs. Studies on open innovation in SMEs largely consider high-tech SMEs. Future studies may give more emphasis on SMEs that are not in high-tech industries.
Studies with broad geographical consideration encompassing Asia, Africa, and South America are necessary to consider for future studies. Several studies discussed policy requirements for SMEs to adopt open innovation, but very superficially. Unlike large firms, support for SMEs from state and other agencies are very essential. Consequently, policy developments to support SMEs for open innovation need high attention in future exploration. Scholars need to develop nexus between innovation and entrepreneurship to advise policy makers. Absorptive and desorptive capacities are limitedly and unsystematically practiced by SMEs. However, open innovation requires SMEs to adjust their strategy for absorptive and desorptive capacities.
Innovation involves various issues such as culture, trust, and litigation. However, these issues remain unexplored in the existing literature. Open innovation is deeply rooted with the culture of a particular location. For open innovation, cultural issues need to be explored in various contexts.
Many activities for open innovation depend on trust building among stakeholders. How trust can be built and what are the main catalysts for that are necessary to identify. Sharing properties such as ideas, technologies, and business models with external parties brings legal issues which are highly relevant.
Due to resource and other limitations, SMEs are not able to maintain numerous networks. Therefore their skills in maintaining few relevant networks are essential for open innovation activities. To boost SMEs' open innovation activities, establishment of some organizations such as Living Labs, and venture capital especially in developing countries are necessary. Role of state, public organization and intermediaries to transform SMEs towards open environment may be useful to explore in the future studies. Despite more use of open innovation in the commercialization stage, studies towards that stage are still relatively low.
Declarations
Acknowledgements
The author is grateful to the Finnish Cultural Foundation for financial support.
Authors' Affiliations
(1)
Department of Industrial Engineering and Management, Institute of Strategy and Venturing, Aalto University, Espoo, Finland
Copyright
© Hossain; licensee Springer. 2015
This is an Open Access article distributed under the terms of the Creative Commons Attribution License (http://creativecommons.org/licenses/by/4.0), which permits unrestricted use, distribution, and reproduction in any medium, provided the original work is properly credited.