Sustainable manufacturing practices in Malaysian automotive industry: confirmatory factor analysis
Journal of Global Entrepreneurship Research
2015
5:14
Received: 23 December 2014
Accepted: 13 July 2015
Published: 24 July 2015
Abstract
Sustainable manufacturing practices (SMPs) have received enormous attention in current years as an effective solution to support the continuous growth and expansion of the automotive manufacturing industry. This reported study was conducted to examine confirmatory factor analysis for SMP such as manufacturing process, supply chain management, social responsibility, and environmental management based on automotive manufacturing industry. The results of confirmatory factor analysis show that four factors for SMP implementation in Malaysian automotive industry were developed and verified. For the next agenda, the authors are looking at the confirmatory factor analysis of sustaining lean improvement in Malaysian automotive industry. The paper proposed with a future direction end of this research.
Keywords
Sustainable manufacturing practicesConfirmatory factor analysisManufacturing processSupply chain managementSocial responsibilityEnvironmental managementAutomotive industry
Background
Strategically located in the centre of Association of Southeast Asian Nations (ASEAN), Malaysia offers vast opportunities for global automotive and component manufacturers in order to set up manufacturing and distribution operations. Evidence show that Malaysia has been attracted global automotive companies (e.g. Toyota, Honda, Nissan, BMW, and Peugeot) and international component manufacturers (e.g. Delphi, Continental, Denso, and Bosch) in order to launch their product in this country and meet the highest consumer demands (Malaysian-German Chamber of Commerce and Industry 2012). However, Malaysian government should also regulate the entry of foreign products in order to ensure the local automotive performance can survive in the local and global market. Thus, a regulatory structure practice was gazette to protect and control the automotive manufacturing activity. South Africa, for example, could sustain their economic performance by adopting an import substituting policies (Barnes et al. 2004).
Due to the rise in these issues, the awareness of Sustainable Manufacturing Practices (SMPs) has become an important element in manufacturing industry. A number of researchers have attempted to refine this broad array of SMPs into the framework. Similarly, to support the continued growth and expansion of the manufacturing industry, SMPs are the best approach (Laosirihongthong and Dangayach 2005; Yuan et al. 2012). In Malaysian business environment, in order to increase sustainability scoring methods for SMPs, PROTON for example utilizes the products and processes, predictive models and optimization technique (PROTON Annual Report 2011).
In line with these current business needs, the development and the number of lean improvement programmed is a proven approach in order to improve the firms' efficiency and competitiveness for success in the manufacturing industry (Nordin et al. 2010; Habidin and Yusof 2012). In this study, SMPs is an important role in manufacturing industry especially in Malaysian automotive industry. According to PROTON Way, the Malaysian automotive industry itself is moving forward towards preparing lean implementation such as high level performance, product quality improvement, lower cost of production, market price; maximize customer satisfaction, elimination of waste and defects, and strengthening relationships with suppliers (PROTON Annual Report 2011).
The purpose of this research study is to examine the sustainable manufacturing practices in Malaysian automotive industry by using confirmatory factor analysis.
Results and discussion
EFA on SMPs constructs
EFA for 17 items of SMPs was done on random sample (
n
 = 227) of Malaysian automotive suppliers to determine the basic details of each SMP construct namely: MP, SCM, SR, and EM. As shown in Table
3
, Kaiser-Meyer-Olkin (KMO) measurement showed the sampling adequacy as 0.89. According to Kaiser (
1974
), recommended accepting values >0.5 and described values between 0.5–0.7 = mediocre, 0.7–0.8 = good, 0.8–0.9 = great and >0.9 = superb. Similarly, Bartlett's test of sphericity was significant at (
p
<0.001), indicating sufficient correlation among items to proceed with the analysis.
Table 3
KMO and Bartlett's test for SMPs constructs
Kaiser-Meyer-Olkin measure of sampling adequacy

0.891

Bartlett's Test of Sphericity

Approx. Chi-Square

1974.965

df

136

Sig.

0.000
Initial solution results
Four factors in initial solution had larger Eigen values (1.038) as described in Table
4
. All factors contributed 67.866 % from the total variance which is sufficient for further analysis which requires at least 50 % (Chinna
2009
; Zakuan
2009
). This shows that four latent influences are associated. Meanwhile, similar to the initial solution, the last column of cumulative percentage indicated that the variance explained by extraction solution was also 67.866 %. Hence, four factors have been acceptable because the total variance was more than 50 % which is 67.866 %.
Table 4
Results of total variance explained for SMPs constructs
Factors

Number of items

First Eigen value

Percentage of variance explained

1.038

67.866

MP

7

SCM

3

SR

3

EM

4
Rotated component matrix results
In EFA, discriminant validity is only shown if the item loading is high towards the related factor when compared to other factors. At least 0.5 loads for each item on respective factor are considered sufficient for the factor (Ngai et al. 2004). This type of results assists the researcher to identify the items which correlate the highest to one factor and on the lowest remaining factor.
The first factor was made up of the six items from building MP including MP1, MP2, MP4, MP5, MP6, MP7, and MP9. Item MP3, MP8, and MP10 were suggested to be deleted. The next factor was classified as SCM and SR with three items namely SCM1, SCM2, and SCM3 for SCM and SR1, SR2, and SR3 for SR. No item was suggested to be removed. Finally, the fourth factor was grouped as EM and consisted of four items namely EM1, EM2, EM3, and EM4. Therefore, 17 items of SMPs of each SMP constructs in this study.
Confirmatory factor analysis (CFA)
CFA was to test the measurement model and to examine whether the data set fit the measurement structure. In this study, CFA was conducted based on four factors (MP, SCM, SR, and EM).
SMPs constructs with four factors
SMPs model with four factors (MP, SCM, SR, and EM) manifested an adequate fit outcome as shown in Fig.
1
.
χ
2 statistics was 183.87 (degree of freedom = 113,
p
 < 0.001), with a ratio of
χ
2/df value being 1.63 less than 2.00 thus exhibiting a good fit. GFI was 0.916 and AGFI was 0.887 which was moderate fit. CFI was 0.97 and the TLI was 0.96. Excellent fit is greater than 0.90. The value of RMSEA was 0.053, less than 0.08 which displayed a good fit. All canonical correlation (RC) showed values of less than 1.00 signalling that discriminant validity was tested and acceptable. At factor loading, the standard coefficient estimated was good as it surpassed the accepted level of 0.30 with
p
-value <0.001 as presented in Fig.
1
.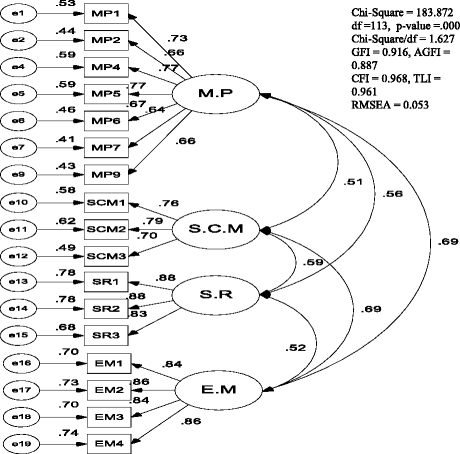 Based on the results of CFA, the four constructs of SMPs are significant variables. Through the measurement model of SMPs constructs, four factors of model analysis as measurement model for SMPs constructs demonstrated good fit and proved that this model is valid and reliable for Malaysian automotive industry. This model was supported by Hair et al. (Hair et al. 2006) mentioned that goodness of fit measures is important to look before continuing the analysis of factor in CFA. This method is carried out to determine which factors are most significant. Therefore, these four constructs as applicable for measuring the SMPs implementation in Malaysian automotive industry.
Practical implications
The SMPs model has been developed and verified, and the four constructs are found to be applicable for Malaysian automotive suppliers. This study will assist academicians and practitioners in order to increase their knowledge and comprehension of SMPs implementation which can assist the automotive industry to improve the company's performance. This research extends to explore in the area of automotive performance especially in the Malaysian region. Therefore, this research analyses the SMPs by using the confirmatory factor analysis not only for theoretical aspects but also from empirical validation.
Conclusions
By using the SEM technique, four success factors for SMPs constructs were developed and verified. The significant items were maintained to create an instrument of latent constructs and measurement items after conducting the validity and reliability tests. As a confirmation, it was found that these automotive manufacturers are interested and involved in sustainability, and most of them see a clear alignment between sustainability and their overall business strategy. The limitations of this study is only able to focus on automotive industry in Malaysia due to the lack of time, financial, knowledge, skills, and technical support. These limitations of the literature may offer new dimensions of research area. Considering current limitations of the literature, this research has given space, opportunities, and recommendations for future researchers to subsequently explore this area in greater detail in their pursuit of organizational excellence through SMPs. As noted before, this research makes a contribution of filling the existing gaps in research in Malaysian automotive industry. For future research, it is suggested that future researchers must be able to prepare themselves with various supports before conducting the final research.
Declarations
Acknowledgement
The researches would like to acknowledge the Ministry of Higher Education (MOHE) for the financial funding of this research thought Fundamental Research Grant Scheme (FRGS), and Research Management Centre (RMC), UPSI for Research University Grant (RUG).
Authors' Affiliations
(1)
Department of Management and Leadership, Faculty of Management and Economics, Universiti Pendidikan Sultan Idris, Tanjung Malim, Malaysia
(2)
Departments of Accounting and Finance, Faculty of Management and Economics, Universiti Pendidikan Sultan Idris, Tanjung Malim, Malaysia
Copyright
© Habidin et al. 2015
This is an Open Access article distributed under the terms of the Creative Commons Attribution License (http://creativecommons.org/licenses/by/4.0), which permits unrestricted use, distribution, and reproduction in any medium, provided the original work is properly credited.