The determinants of location specific choice: small and medium-sized enterprises in developing countries
Journal of Global Entrepreneurship Research
2017
7:16
Received: 12 August 2016
Accepted: 3 July 2017
Published: 14 July 2017
Abstract
This study adopts a resource-based view to model how location specific-factors among small and medium-sized enterprises (SMEs) in coastal environments in developing economies enable them to sustain clusters and contribute to economic growth. Locations of small and medium enterprises (SMEs) play a crucial role in determining their survival. SMEs agglomerations are often due to natural resource endowments and types of business climate in their environment. The amoebic nature and economic roles they play have made them the bedrock of the micro economy in most economies. This study contributes to the literature on cross-country comparison of small and medium enterprises (SMEs) in Zhenjiang (China) and in Lagos State (Nigeria).
The methodology used was mainly literature review and secondary research data from World Bank and data sets from China and Nigeria. The findings highlight an upsurge in research on SMEs in developing countries and how these enterprises have used location-specific endowments to mitigate their resource limitation predicament. The learning points are envisaged to contribute to strategic growth in international business and foreign investments, knowledge for policy makers and to generate further comparative location studies in developing countries.
Keywords
ComparativeClustersChinaLocation-specificNigeriaSmall and medium enterprises (SMEs)Zhenjiang
Background
Developing economies are prone to weak institutions, fragile business environments, complex economic and social problems such as poverty, unemployment, low per-capita income and unstable economic growth and development. Faced with these complex problems in their weak environments, business activities spring up to escape the poverty trap and maximize opportunities in different locations (Deng, Hofman, & Newman, 2013). SMEs are common in developing countries and are described as nucleus of economic activities, a major source of employment, key contributors to economic growth and are engaged in poverty eradication initiatives globally (Aga, Francis, & Rodríguez-Meza, 2015; Bauchet & Morduch, 2013). However, they are also confronted with diverse problems like financing, low capabilities, fragile structures, lack of technological know-how, capital issues, institutional deficiencies that hinder their survival and business climate when compared with developed economies (Sorasalmi & Tuovinen, 2016).
Based on the strategic roles SMEs perform in the global economy, scholars have investigated SME dynamics in different contexts using different variables and perspectives. However, there is a dearth of studies on SMEs location–specific endowments in coastal locations in Asia and Africa. The question then arises on how they are able to mitigate the adverse effects of their weak institutional environments. We attempt to address this through resource-based view theory (RBV) using location as an independent variable. In the RBV model factors that influence SMEs locations, resource geography and adaptive capabilities are represented in Fig.
1
. Extant literature confirms the agglomeration of SMEs clusters in urban cities (Boisot & Child,
1999
). This study makes novel contribution to the literature on SME cross-country studies in Asia and Africa by investigating location specific factors in China and Nigeria.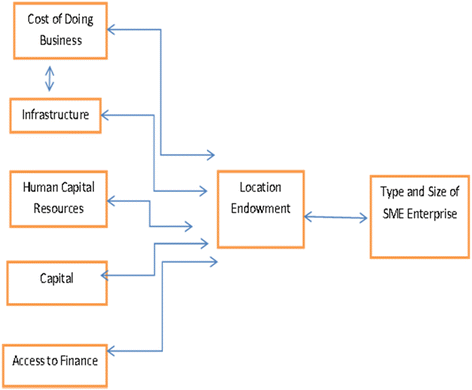 Firstly, we draw our theoretical framework based on resource-based view (RBV) to enrich our understanding of SMEs complex dilemma in developing economies. Secondly, prior SME studies focused on diversity, business complexities, financing and other issues that affect SMEs mostly in developed countries, but this study adopts location-based perspective for SMEs in Zhenjiang, China and in Lagos, Nigeria. Thirdly, this will be the first study on SME Location –Specific study between China and Nigeria. SME environment-enterprise continuum globally has distinct contextual factors influencing performance with business processes often modeled without a holistic examination of context (Novakovic & Huemer, 2014). Finally, our study confirms cross-country complementary synergies, vertical and horizontal networks in both environments.
Methods
Data
A literature search in Google scholar electronic database was done in November, 2015 and April, 2016 for articles published between 1980 and 2016 using 12 keywords, problems, finance, location, GDP, employment, sub-Sahara, job creation, Nigeria, China, Africa, Europe, Cross-culture (see Fig.
3
). We also used datasets from China and Nigeria's World Bank Enterprise survey 2012, 2014 conducted from April 2014 to February 2015 and November 2011 to March 2013.The datasets sample size comprised of 2676 firm in 19 states of Nigeria and samples from China taken from November 2011 through March 2013 consisted of 2700 privately owned and 148 state-owned firms. World Bank enterprise surveys provide objective data on firms in more than 124 countries and focus on dynamics of factors that shapes the business environment. The Surveys also enjoy wide usage by scholars in cross-country studies and World Bank policy papers due to the standard methodology.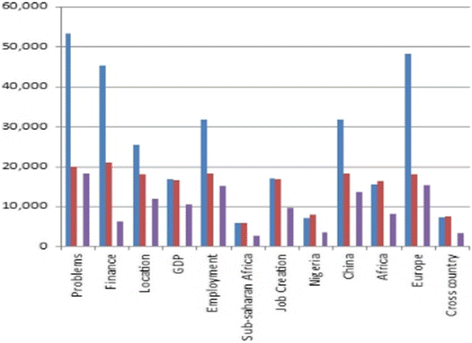 The samples were derived using stratified random sampling, industry, enterprise size, and location (urban). Enterprise size parameters was defined using unified size bands: small (5 to 19 employees), medium (20 to 99 employees), and large (more than 99 employees) see Table
4
. These parameters did not account for micro and informal enterprises, which are predominant in developing countries.
Table 4
SME employees classification China and Nigeria firm size
| Type | Number of employees | China | Nigeria |
| --- | --- | --- | --- |
| Small Enterprise | 5–19 | 593 | 1753 |
| Medium-Sized Enterprises | 20–99 | 1081 | 734 |
| Large Enterprise | 100 & above | 1026 | 100 |
The Literature review and secondary data obtained from World Bank Enterprise Surveys, Nigeria and China Bureau of Statisics enhanced representation of our conceptual framework as depicted by the tables and figures in this study.
Results
The evidence from the literature search in Fig. 3 is representative of most databases and a signpost to the dearth of cross-country SME research in Nigeria and sub-Saharan Africa. The literature was skewed mainly towards contextual locations in developed countries of Europe and America. The literature on China SMEs seem to have increased sharply from 2010 to 2016 compared to the preceding 29 year period (1980–2009), this may be attributable to subprime crises. Globally, SMEs were used to jumpstart most economies after the subprime crises, resulting in attentions shifting to emerging economies in Asia and Africa. SMEs witnessed sustained pressure by their governments and economies to create jobs and jump start the process of economic growth and development (Ardic, Mylenko, & Saltane, 2011). This evidence provides justification for studies and increasing focus on developing and emerging economies described as the last frontiers of the globe due to the influx of foreign direct investment.
Evidences from the sample population in Table
4
confirms the structure of SMEs in both contexts, micro and small enterprises form the bulk of enterprises in Nigeria and business climate in China is a major factor for the large size of medium and large enterprises. A major reason for the sharp differences in the SME composition lies in the nature of institutional opportunities and problems in each context. Fig.
4
shows that lack of basic infrastructure facilities for example, electricity poses a major problem for SMEs growth. In Lagos, SMEs account for majority of businesses in the private sector and major commercial cities in China and Nigeria confirms the presence of large clusters. Less than 10% of the literature search was on finance issues, location, GDP, employment, Sub-Sahara, job creation, Nigeria, China, Africa, Europe, Cross-country studies relating to SMEs. Financing problems and practices of informal sector constitute major hindrances to SME growth and location in China (see Fig.
4
) and this suggests that most of these enterprises may not be within the scope of regulatory authorities due to their informal and transient business lifespan. Energy problems seems to be a major predicament limiting SMEs growth in Nigeria and this has continually hindered the existence of virile business environment and led to increasing high cost of production and doing business in Nigeria. The unavailability of constant electricity makes most firms to depend on generators to run their businesses, this poses environmental problems .Thus, availability of financing, and energy has continued to influence the location of these enterprises in their domains. The level of corruption in Nigeria is significantly higher when compared to China. Corruption is an endemic problem facing most developing countries and is a reflection of the lax in regulatory and business environment. High poverty level, the cost of doing business, the cost of living in urban area, family commitments, loopholes in regulatory and business environment are some of the factors that promotes corruption.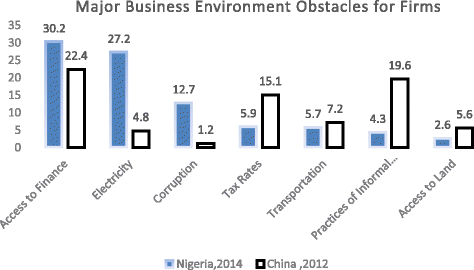 Conclusions
The comparative study of Lagos and Zhenjiang coastal location reveals a myriad of contextual issues and location derived benefits arising from the nature of economic activity. Their strategic coastal domains revealed different levels of economic productivity, contextual issues and regulator-operator environment. Policy makers and stakeholders in Nigeria should intensify efforts to leverage on emerging opportunities in the power sector. Licensing of new private banks in China requires a homegrown Guanxi based approach if they are to be successful in providing capital to SMEs. In the long run SMEs may find it easier to access financing needs from the bank. Investors and investments in Lagos will continue and the completion of the Lekki free trade zone will further bolster the economic ties between China and Nigeria (Ozawa, 2015). Similarly, the early completion of other industrial parks and special economic zones in Ogun state and other locations in Egypt, Ethiopia, Mauritius and Zambia are critical for industrialization drive in Africa and integration into the global value chain (Davies, 2010). Replicating the remodeling and redevelopment model of Chinese cities and provinces is imperative for Lagos State and major cities if they are to maximize their limited land resources and transform their domains into megacities.
Current efforts between the two regional powers in fostering industrial co-operation should be nurtured and Nigeria needs to learn from China's industrialization strategy of dedication, pragmatism and long-term planning (Ministry of Foreign Affairs, 2015).
Limitations
The findings of this study cannot be generalized due to the limited research location context. Another limitation is the reliance on secondary data, though the sources are reliable, timelines of the data differs and realities change. Data on small and medium enterprises in developing countries are limited due to their transitory nature and short life cycle. Future research should include more study locations and contextual variables.
Declarations
Acknowledgments
The authors are indebted to anonymous reviewers and colleagues for their insightful comments, proofreading and constructive suggestions. This work supported by the National Research Foundation of Korea Grant funded by the Korean Government (NRF-2014S1A2A2027622), and supported in part by the National Natural Science Foundation of China under grants 71471076, 71171099, and 71201071, and by the Joint Research of The NSFC-NRF Scientific Cooperation Program under grant 71411170250. This work was also sponsored by Qing Lan Project and 333 Project of Jiangsu Province, and Jiangsu University Top Talents Training Project.
Authors' contributions
AB designed the conceptual framework and carried some sections of the Literature studies, discussions as well as collating inputs of JU and UC. JU helped with literature, methods and data for China, UC provided the secondary data for Nigeria and conclusions. JU and UC reviewed the papers. All authors read and approved the final manuscript.
Competing interests
The authors declare that they have no competing interests.
Publisher's Note
Springer Nature remains neutral with regard to jurisdictional claims in published maps and institutional affiliations.
Open AccessThis article is distributed under the terms of the Creative Commons Attribution 4.0 International License (http://creativecommons.org/licenses/by/4.0/), which permits unrestricted use, distribution, and reproduction in any medium, provided you give appropriate credit to the original author(s) and the source, provide a link to the Creative Commons license, and indicate if changes were made.
Authors' Affiliations
(1)
School of Management, Jiangsu University, Zhenjiang, China
(2)
Faculty of Business Administration, University of Lagos, Akoka, Lagos, Nigeria